Criminals have reasons to be worried since law enforcement agencies have obtained a huge amount of information that has been exchanged between criminals at different encrypted communications services. This has lead to lots of arrests and seizure of drugs, money, etc. Countless of spin-off operations are expected to take place meanwhile the Police is working through the vast amount of information.
Criminal networks have a huge demand for encrypted communication platforms to facilitate their criminal activities, but recently it has been a big blow to the criminals when the law enforcement authorities in different countries have been able to decrypt, monitor and save the conversations and information being sent.
In July 2020, the EncroChat encrypted platform was dismantled by the Operational Taskforce EMMA (France, the Netherlands). During a number of months, the joint investigation made it possible to intercept, share and analyse millions of messages that were exchanged between criminals to plan serious crimes. For an important part, these messages were read by law enforcement in real time, over the shoulder of the unsuspecting senders. The interception of EncroChat messages came to an end on 13 June 2020, when the company realised that a public authority had penetrated the platform. EncroChat then sent a warning to all its users with the advice to immediately throw away the phones, which sent shock-waves in the criminal underworld across Europe.
At the beginning of 2021 the Sky ECC encrypted communications service was blocked by an international group of judicial and law enforcement authorities (Belgium, France, the Netherlands). A significant share of users of its systems were international crime organizations involved in drug trafficking, and the company management was suspected of collusion. Sky Global was based in Vancouver, Canada. The US Department of Justice issued an arrest warrant against the company's CEO Jean-François Eap. On March 19, 2021, the company apparently shut down the operations after BlackBerry, Inc. cut it off from its services. Its website has been seized by the US Federal Bureau of Investigation (FBI).
After the take-down of Sky ECC in March 2021, many organised crime networks sought a quick encrypted replacement for a communication platform that would allow them to evade law enforcement detection. Some of the criminals migrated to ANOM, but without knowing that it was an encrypted service strategically developed and covertly operated by the FBI and the Australian Federal Police.
The service of ANOM grew to more than 12 000 encrypted devices that was used by over 300 criminal syndicates operating in more than 100 countries, including Italian organised crime, outlaw motorcycle gangs, and international drug trafficking organisations.
The FBI and the 16 other countries of the international coalition, supported by Europol and in coordination with the US Drug Enforcement Administration, then exploited the intelligence from the 27 million messages obtained and reviewed them over 18 months while ANOM's criminal users discussed their criminal activities.
Large-scale law enforcement actions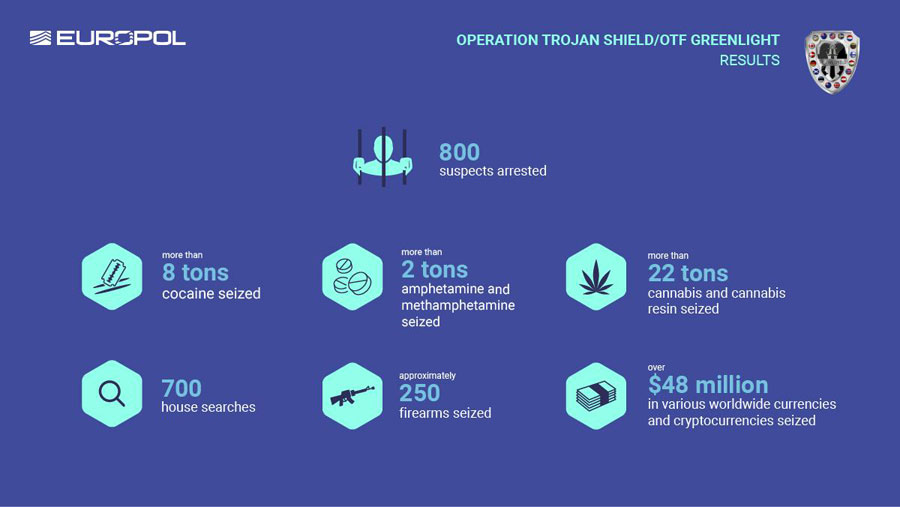 A series of large-scale law enforcement actions have been executed over the past days, at the beginning of June 2021, across 16 countries resulting in more than 700 house searches, more than 800 arrests and the seizure of over 8 tons of cocaine, 22 tons of cannabis and cannabis resin, 2 tons of synthetic drugs (amphetamine and methamphetamine), 6 tons of synthetic drugs precursors, 250 firearms, 55 luxury vehicles and over $48 million in various worldwide currencies and cryptocurrencies.
The information gathered through EncroChat has made it possible to arrest and prosecute the leaders of the criminal networks that have been difficult to do before. Due to the big amount of information being gathered, more arrests and searches is expected to take place in pace with the law enforcements authorities are working through the load of information being provided.
The huge amount of information obtained through ANOM, will lead to countless of spin-off operations being carried out.
Sources:
Related articles: